Chair's Message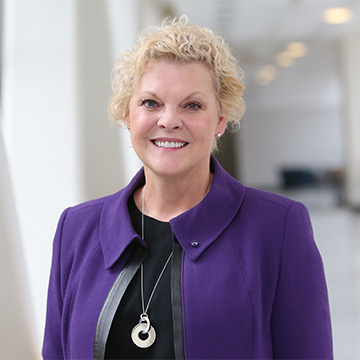 The Role of Family Medicine
The fundamental core of our specialty is continuity. Through long-term awareness of the environment, concerns and conditions of our patients, family physicians improve their quality of life and lower the overall cost of care.
When a family physician is engaged in the care team, subspecialists — like the exceptional foundation of subspecialists of Northwestern Medicine — are only treating those individuals who most need their care. Family physicians are personal doctors for all people throughout their lives and across most health care needs.  Through partnership with patients and the rest of the health care team, family physicians help patients prevent, understand and manage illness, navigate the complex health system and achieve their wellness goals.  During medical school, I loved all my rotations and performing a variety of clinical procedures. I wanted a career that would offer those diverse experiences, give me a chance to know my patients well and advocate for optimal the optimal health of my patients and our community.
Education
Medical students explore the principles of family medicine during all four years of medical school. In the first two years, contextual care in the bio-psychosocial model is woven throughout all phases of the curriculum. Through the required  Education-Centered Medical Home, students experience the importance of continuity of care in acute, chronic and preventive medicine. Additional experience in family medicine is available through elective time, whether in the Chicago area, in rural communities around the country or through international experiences.
Our department offers three unique programs to residents. The residency located in Humboldt Park is well established and focuses on training residents to care for vulnerable urban communities within Chicago. Utilizing the resources of Northwestern, Erie Family Health and our community partners including Swedish Hospital, residents develop the skills needed to be leaders in community health and to improve access for underserved populations.
The program based at Northwestern Lake Forest Hospital offers training in two diverse clinical settings in Lake County - Grayslake and Erie HealthReach in Waukegan. Lake County is large, diverse, and dependent upon community-based physicians. We have an opportunity to chart the impact of our program on health outcomes in this area 10 or 20 years into the future as the residency program continues to mature. Faculty are fellowship trained in integrative medicine, bioethics and health policy and offers extensive Women's health experience. The Lake County location is a great opportunity for a resident who enjoys a more suburban community focus with easy access to urban amenities and the strong academic foundation of Northwestern Medicine. This residency program is the sole program based at Northwestern Lake Forest Hospital.
The program based at Northwestern Delnor Hospital, located in Geneva, Illinois, is another option for residents who prefer to live in a smaller community with access to urban amenities. This program offers training in a suburban, traditional practice.  Faculty are fellowship trained in Women's health, palliative care, and sports medicine.  There are opportunities in sports medicine, OB, and rural experiences.  Northwestern Delnor Hospital is family medicine focused.  Residents receive dedicated training as family medicine is the only residency program on the Delnor campus.
Research
Our department is committed to robust community-academic partnerships, focusing on projects with immediate local impacts as well as generalizable scientific relevance. Residents participate in two projects during their training, typically related to improving educational systems, community health, or patient-centered outcomes.  
We thank you for your interest in our department and programs and invite you to contact us for more information.